To produce the best coffee in

Brazil

, we count on the

best team of collaborators

to achieve this.

If you are passionate about what you do, and have team loyalty and spirit, then you have come to the right place to grow professionally.

For the 13th consecutive year, 3corações Group is one of the top 150 companies to work for in Brazil.

The 3corações family has a lot of stories to share. Read the testimonials of some of our most passionate collaborators.
I can say with certainty that coffee means everything to me! I started very young in this field and much of what I have achieved up to now has come from working with coffee. Today, my job is to sort the samples of coffee beans sent to us and to prepare them for tasting and to assist in the process of buying raw coffee. I know the importance of the role that my daily work has in the company's projects becoming a reality. Working for Grupo 3corações gives me confidence.
close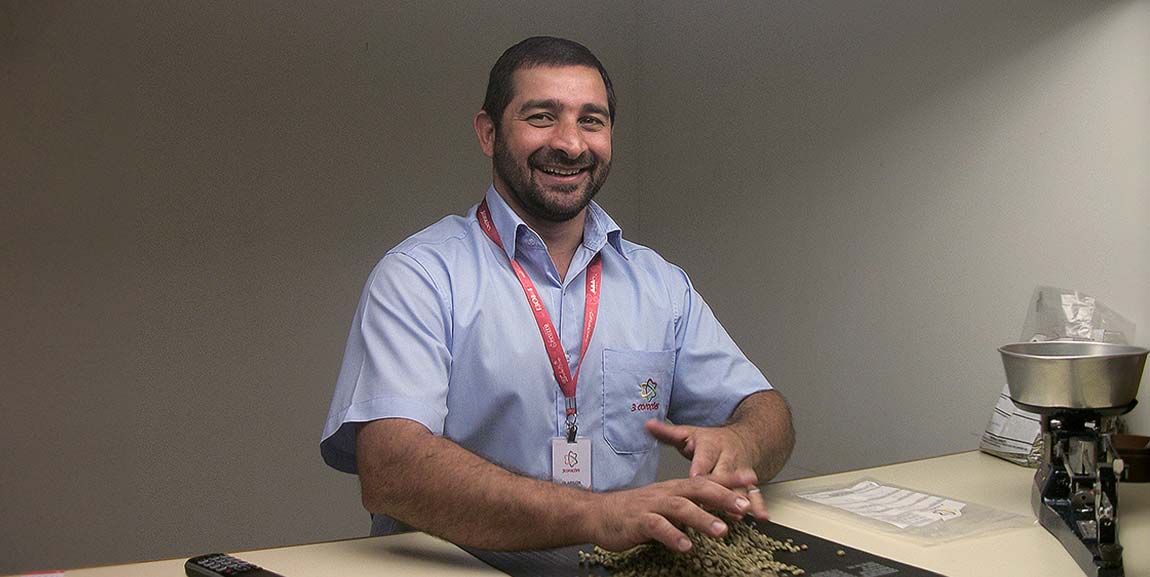 Gladson Luis Melo
Coffee classifier Manhuaçu (MG)
15 years of love
Learn More
Socorro Pessoa

Customer Service Manager em
Eusébio (CE)

30 years of love

Learn More

Coffee is a essential part of my life! Within Grupo 3corações I made my career, learning to be a better person from wonderful people and growing as a professional and as a person. I often say that my work environment is an extension of my home and my colleagues are part of my family. Among my many duties in the company are being able to understand the needs of our customers and finding solutions that provide returns for the company are the most exciting challenges in my job. I love serving our customers!

close

Josias da Costa

Gardener em
Nova Iguaçu (RJ)

17 years of love

Learn More

I love being a gardener because my work is like therapy for me! Grupo 3corações helps me with my achievements, such as the help I received to buy the building material that was needed to finish building my house. The most exciting moment of these 17 years with the company was when the company bought tickets for me and my wife to travel to visit my family that I hadn't seen in 12 years.

close

Leonel Porto da Silva

Production Supervisor em
Natal (RN)

3 years of love

Learn More

Working with people who specialize in different areas is very motivating for me because my work is never routine: every day is new. I enjoy working to give our customers a pleasurable and enjoyable experience because I like what I do. I make every effort to achieve my goals and those of Grupo 3corações. My superiors are an inspiration for me and I try to learn as much as I can from them and maintain a healthy relationship with my coworkers.

close
See more testimonials
Junior Cezar de Carvalho

Controller em
Manaus (AM)

14 years of love

Learn More

My workday is wonderful! I arrive in the morning at the company, I gather the stock workers together and we have a meeting so everybody knows what we are going to do that day and we finish with a prayer and a war cry. I usually affectionately call them my "warriors" because we are like an army. I love challenges! I like it when my manager tells me "I have a challenge for you" because it motivates me to work even harder.

close

Eliana Mezzacasa

Customer Services Supervisor em
Salvador (BA)

3 years of love

Learn More

I arrived at Grupo 3corações on a Thursday after Carnival and I arrived at a fast pace. When I was hired, they gave me some advice, saying the company should be cared for as though it were my home, and so this is what I do. One of the challenges that I think is very important here is to make everyone feel happy, welcome, at home and genuinely a part of a big family when they come to work. A work environment needs harmony, and here we find open doors, collaboration and fellowship.

close

Raimundo Alves Pereira

Driver em
Cedro (CE)

16 years of love

Learn More

I've learned a lot in these 16 years with Grupo 3corações. This was my first job and it's great to work doing something I enjoy. I really like working as a driver. I set a goal for myself: I wanted to get my driver's license and become the best driver in the company. I'm the second best, but with faith I'll get there one day!

close
See less testimonials